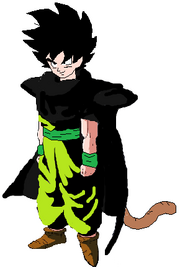 Solo is the main character in Dragonball: The Story of Solo. He is a Saiyan.
Backstory
Edit
Unknown...
Techniques
Edit
Kamehameha
Ki Blast
Flight
Final Spirit Cannon
Double Galick Cannon
Galick Sphere
Energy Sword
Personality
Edit
He is humble and kind and does anything he can to protect himself or his friends. He is fun-loving and energetic. Being a Saiyan, he takes thrill from fighting.